PHOTO RESTORATION SPECIALISTS – No matter how old or damaged your photo is, ABC Photo can restore it. 
We also restore documents such as old letters, diplomas, wedding certificates and newspaper clippings.   
Call 724-934-1118 or visit us for a free in-store consultation and estimate. Each project is individually priced, and we will offer different options that fit your budget.
PHOTO RESTORATION EXAMPLES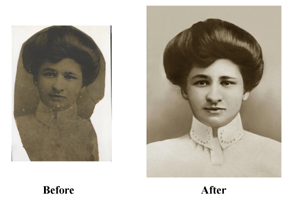 Restoration of a Badly Damaged Photo
Much of the background and part of the subject herself were missing from the torn, spotted, moldy and faded original.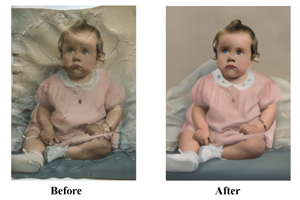 Water-Damaged Photographs Can Be Fully Restored
When photos get wet, the emulsion can separate from the paper — that is, the photographic chemicals dissolve, ruining the color and distorting the image. The "after" photo shows a corrected color balance and a recreated background.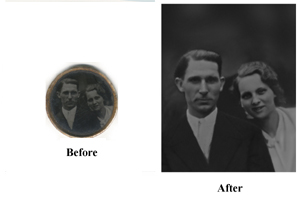 A Damaged Locket Photo is Enlarged to a 5×7 Portrait
A tiny round locket photo, just 1-1/2 inches in diameter, required extensive restoration before it could be enlarged to a 5×7.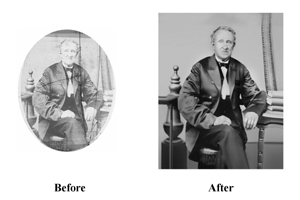 Restoration of a Rare 19th-Century Glass Negative
A rare photographic technique during the 19th century used a piece of glass for a negative. Here, the glass broke. The "after" photo includes new background to make the rectangular-shaped photo the owner wanted.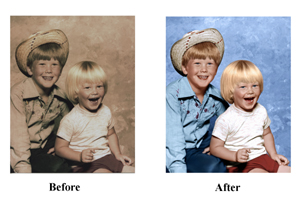 Colorizing Photos
Any sepia or black-and-white photo can be colorized. The new version is based on the owner's recollection of the children's clothing, hair and eye color.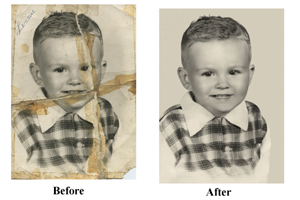 When Do-It-Yourself Photo Repairs Go Wrong …
Probably the worst do-it-yourself photo repair involves tape. Quickly, residue from the tape contaminates the emulsion. This photograph required extensive restoration. We removed the writing in the upper left corner.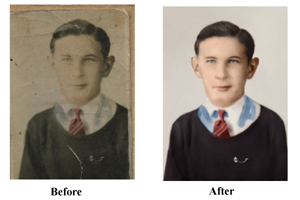 Old, Faded Photographs Can Be Restored to Full Color
The original color photo was so faded and dirty it looked black-and-white. Probably it had been exposed to light and to temperature fluctuations.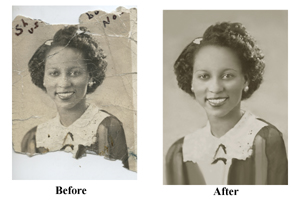 Missing Parts of a Badly Damaged Photograph Are Recreated
Much of the subject was missing from the torn, wrinkled, scribbled-on "before" photo.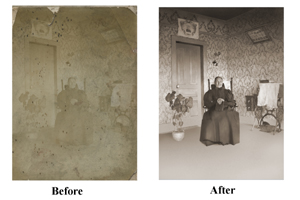 A 19th-Century Photo Comes Into Clear View Again
Over a century old, the original image was barely visible under layers of dirt and mold.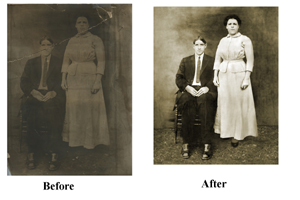 A Hundred-Year-Old Photograph Looks Better Than New
The original image, likely from the early 20th century, may have been stored in a basement, garage or attic, where it got dirty and moldy.